Posted on June 24 2016
Making Cold Brew & Nitro Cold Brew
By now, most people are familiar with cold brew coffee, the brew method which brews coffee with cold water, fully immersed for twelve to twenty hours, depending upon recipe and taste preference. The result is a smooth, rich and uniquely sweet, and less acidic coffee with distinctively different taste than traditional iced coffee.
"In the 12 months ended in February 2017, sales of cold brew in the U.S. were up about 80 percent over the prior year, according to estimates from Cedarhurst, New York-based researcher StudyLogic. Sales of hot coffee fell 3 percent over the same period."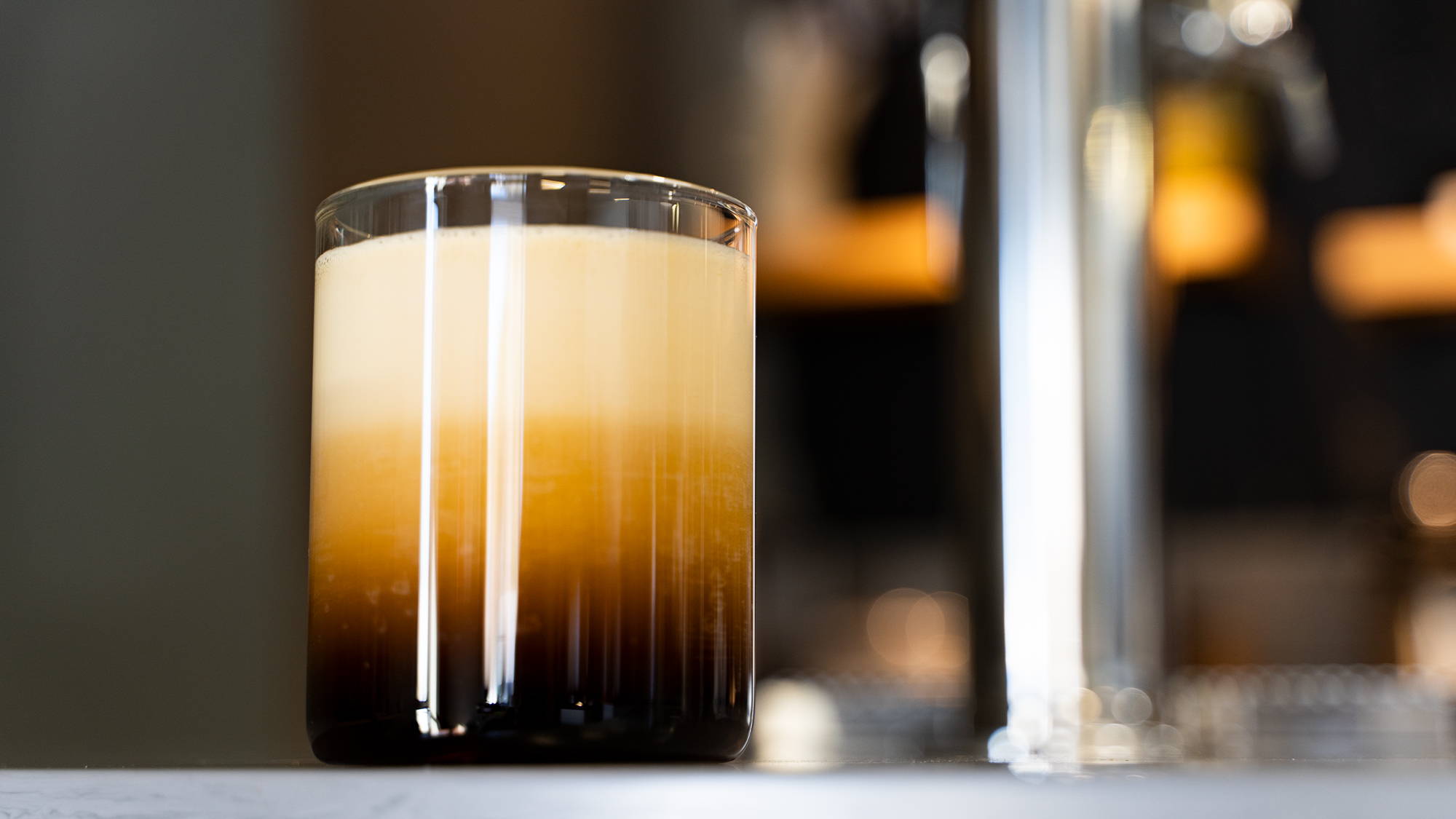 Large coffee retailers across the US have rushed to add cold brew to their menus, to capitalize on the demand for cold brew. This has created more awareness and demand, and now is a great time for independent retailers to add cold brew to their menus!
If you don't yet know how to make cold brew, check out our recipe and How to Make Cold Brew blog post.
What are the Benefits of Kegging Cold Brew?
It's Fresh - My Mother used to call me fresh and it was a bad thing, but when we are talking coffee and cold brew, it's a really good thing! When you keg your cold brew coffee, and store refrigerated under pressure with nitrogen (i.e. no oxygen), the cold brew coffee stays fresh a long time - as in weeks. We have tested coffee two weeks after kegging with very little discernible taste difference. This means virtually no waste.
It's Fast - Once you have the keg and tap system setup, you can serve tasty cold brew in seconds. No more opening the fridge, getting out the iced coffee, pouring the drink, putting it back in the fridge, and yet get the idea. Nope. Just get your cup, rock the handle and you have fresh cold brew flowing. You can speed up that line and serve more customers!
It's Unique - With the competitive coffee market, you need to stand out to your customers, and this is a great way to show you are up with market trends, and on the forefront of a unique coffee experience.
What You Will Need to Serve Cold Brew on Tap
For a reasonably small investment, you can get a cold brew keg system up in running in your cafe. Here are the basic hardware and accessories you will need.
Cold Brew System ($100) - This is how you will make the cold brew. The long trusted method and most popular commercial system is the Toddy Commercial System. This will allow you to make about five gallons of cold brew at a time. It is simple, inexpensive, and easy to use.
Kegerator ($599 - $1599) - A kegerator is a refrigerator for kegs, with a tap on top. Like with refrigerators, there are many options, and vary quite a bit in quality and price. If this is for a restaurant, pay attention to NSF certifications. Also, it is important to note how the units vent and cool. If your plan is to slide the kegerator under a counter, be sure to shop for kegerators that vent out the front of the unit. Typically, these are higher quality and more expensive, but well worth the investment for a commercial setting. If you kegerator will be free standing and stay on casters, the vent location is less critical. Lastly, pay attention to interior height, to make sure the kegerator will accommodate your kegs.
Stainless Draft Tower ($175) - For serving nitro cold brew, we recommend upgrading to a stainless steel tower for your kegerator. You want a draft tower that has stainless steel body and contacts, to hold up to the acidity in coffee.
Kegs ($100) - The most common and easy keg to use with a cold brew is a ball lock 5-gallon Cornelius keg. The top unlocks and makes for easy filling with cold brew. These were used by the soda industry for years, so they are also readily available reconditioned. Over time, the maintenance will be minimal, replacing the gaskets every so often.
Regulator ($70) - The regulator is what controls your flow of gas to the keg. If you buy a kegerator, it will likely come with a CO2 regulator, which is not what you need. You will need to buy a nitrogen regulator (or adaptor for the CO2 regulator), and we suggest a double gauge regulator. One gauge will read the nitrogen tank level, and the other gauge will provide your pressure through the tank (your pouring pressure).
Nitrogen ($40) - You will need to find a local supplier of nitrogen in your area. You can purchase your own tank, and then have it filled when you need, or you can pay a deposit each time and swap tanks with the supplier (similar to your grill propane tank). IMPORTANT: Use only 100% food grade nitrogen, not Co2 or blend of the two (often referred to as beer gas).  
Accessories ($20) - You will need some hose for both gas and liquid, to bring air to the kegs, and then liquid to the taps. You will also need some quick disconnect fittings, that attach to the keg.
Once you keg your cold brew, you will have two main choices for how to serve your cold brew. First, would be what we refer to as still, and looks like more traditional cold brew iced coffee. Nitrogen is used to keep the cold brew fresh in the keg, but it is not infused. Second, would be infused, and pours with a cascading effect, similar to a Guinness beer, and has a creamy texture and head on top. This is commonly what is referred to as Nitro Cold Brew. Let's look at each in some detail.
This method is the easiest, and essentially once you have the cold brew kegged, and the tap setup, you just pour and go. You can pour at a very low tank pressure (5-10psi), meaning your nitrogen consumption will be very minimal, and a tank should last you quite a while. The nitrogen is used to keep the cold brew fresh in the keg, and to push the cold brew through the system out of the tap.
This drink is normally served over ice as your traditional iced coffee. The serving sizes may vary, but typically we see this type of cold brew served in 12 - 16 oz cold cups.
Serve Nitro Cold Brew (Infused) 
This method requires a bit more hardware, but it results in a very unique drink experience. In addition to the equipment above, you will also need two more pieces of equipment; 1) a stainless steel stout faucet, which allows the coffee to pour in the cascading style with the creamy texture, and 2) a device to infuse the coffee with nitrogen.
Nitro Coffee Keg Lid ($50) - The least expensive, and least effective way to infuse nitrogen into cold brew is with a Nitro Coffee Keg Lid. This lid replaces the standard ball lock lid, and through a tube and carbonating stone, sends nitrogen down to the bottom of the keg to blend with the cold brew. In order to serve the infused cold brew, you will need to keg your cold brew as previously, adjust your regulator to 40 PSI, but this time fill with nitrogen through the Nitro Infuser Lid. This is the most cost effective, yet produces the least consistent nitro product. We find that often times, it takes a full day for the keg to fully infuse (referred to as charging), so if you are turning over your kegs fast this may be a problem. We find it is helpful to manually shake the keg after the initial fill with nitrogen, to help promote infusion. Overall, we find that this method creates the least amount of texture in the finished product, and is a bit inconsistent as you work through the keg. As an intro to nitro cold brew, this is a great place to start with a smaller investment, but you may quickly look for better results.
Nitro Infusers ($585 and up) - In recent months, there has been a lot more cold brew nitro technology to hit the market. The all aim to take the inconsistency out of nitro cold brew, and deliver a creamy textured product on demand. Joe Tap was one of the first to market, and they have several different products. We have tested their dual infusion tower, which works great, and allows you to pour both infused and still nitro from one keg. Their website is not great, so you will need to contact them for more info and pricing ($850 and up). We have also tested The Nitro Infuser from Enhanced Beverage Solutions, which has produced good results. The single unit is $585 list price, and a recent design improvement to the valve, has made this a better piece of equipment. We like the fact that it is a standalone compact block, that can easily retrofit into any system. Also recently, Wilbur Curtis has jumped into the nitro game, with their own Infuser. We have not yet tested this hardware, so cannot provide a review.
The infused cold brew is normally served without ice in a smaller portion, to fully appreciate the texture of the drink, but this is up to the particular cafe. You will need to factor this into your cup sizes, and pricing.