Posted on October 29 2018
A detoxifying, coffee-like blend featuring organic reishi and maitake mushrooms.
We are really excited about the addition of this powerful blend to our lineup of loose leaf offerings from Rishi. Made of reishi and maitake mushrooms, rich cocoa nibs and detoxifying roots. In East Asian herbal medicine traditions, reishi mushroom is known as a powerful adaptogenic herb that alleviates stress and promotes vitality for the whole body.
Mushroom Hero blend pairs these with roasted chicory and dandelion roots, creating a dark infusion with a coffee-like appearance, taste and mouthfeel.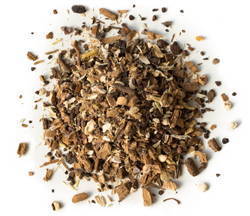 The uncanny coffee-like character tastes amazing as a caffeine-free latte, and also makes an incredible decoction providing structure and depth as a soup base. We immediately thought of a delicous bowl of ramen when first tasting this herbal blend.
This is a great alternative for folks that are looking for a coffee alternative, but a similar experience in mouthfeel, body, and even flavor.
Ingredients: Organic chicory root, organic roasted dandelion root, organic reishi mushrooms, organic maitake mushrooms, organic cocoa nibs, organic licorice root.